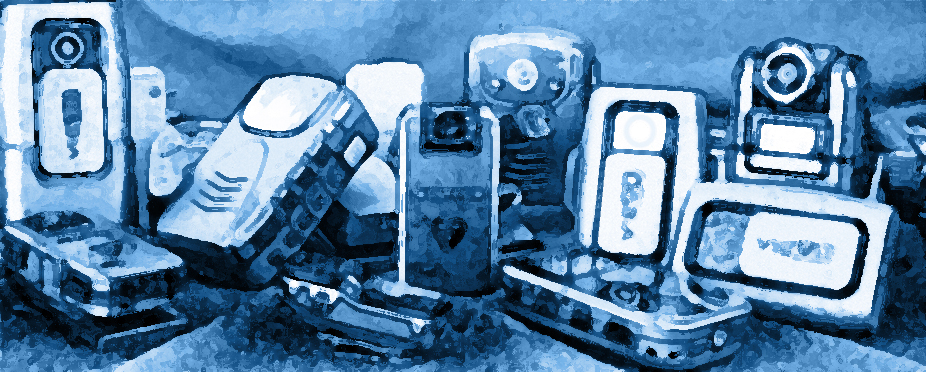 Regardless of the body worn camera you choose, VeriPic's Digital Evidence Manager® and Locker solution enables law enforcement to use one back-end solution.
With so many body worn cameras on the market today, and the need to change cameras and vendors after you use the ones you have for a while, VeriPic enables law enforcement to avoid migration of your data from one place to another every time you switch. It also gives you the ability to use multiple types of body worn cameras at the same time and upload the data to one place. Because VeriPic's Digital Evidence Manager can manage any file type from any device, officers have the freedom of choice to use the devices they need to do their job.
Choose a body worn camera from us, or purchase any of our partner cameras
directly through VeriPic to make buying what you need easier.
While you can purchase a camera that best meets your needs from another vendor
and use VeriPic's back-end solutions to make managing your data easier,
we wanted to provide customers with a one-stop-shop as part of
our end-to-end solution. So, we give you a choice of
cameras to purchase directly from us.
Request Information See camera list below.
Better Organize Your Body Worn Camera Videos
Separate your body worn camera videos that become evidence
from those that you only need to store for retention policies. Use VeriPic's Locker to upload your videos, meet retention policies for non-evidence and submit videos that are evidence to Digital Evidence Manager to store with your other case files in one place.


BMPproElite – Camera
One Touch Recording with Standby
2" Rear Display
Recording Time: 12+ hours
Push-to-Talk
More Details


ForceProVideo LE10 – Camera
One of the Smallest 1080p Cameras
Video and Photo
Recording Time: 5 hours
Multiple Mounting Options
More Details

ForceProVideo LE50 – Camera
Audio Announcement
2" Rear Display
Video, Photo and Audio
Silent Mode
More Details

GSI X-Force™ PR-104 – Camera
1080p HD Video
2" Rear Display
Recording Time: 8 hours
Night Vision
More Details

MAXSUR Shield IV – Camera
Video, Photo and Audio
2" Rear Display
Night Vision
Push-to-Talk
More Details

MAXSUR Shield V – Camera
Swappable Batteries
Video, Photo and Audio
2" Rear Display
Night Vision
More Details