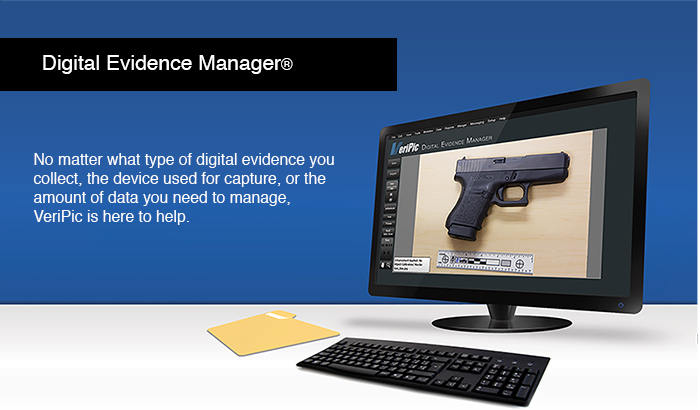 Digital Evidence Manager enables law enforcement to manage all case files from any device and location in one place. File types include standard and proprietary video, crime scene photos, audio recordings, and documents.

Tie All of Your Digital Evidence Together with One Solution
Manage evidence from multiple systems and devices in one place and benefit from features such as Audit Trail, security, encryption and patented hashing technology.

Share Your Evidence with the District Attorney
Share your digital evidence with your District Attorney with our District Attorney's license. Control access to files, or share openly depending on your records policy.

Fulfill Discovery Requests with Ease
Manage all your case files in one place with Digital Evidence Manager and use its eDiscovery Compiler to fulfill discovery with a few clicks of a button.

Get Out of the Office and Back to Fighting Crime
We know mobility is important. Capture and manage files from anywhere you are with VeriPic's web licensing and mobile app.

Fulfill Public Records Requests
Meet public records requests for all of your files when you use VeriPic.
Use with Evidence Pad Mobile App
Use VeriPic's mobile app to capture videos, photos, and audio statements.
Create and sync notes with each file, and import directly into
Digital Evidence Manager while in the field.